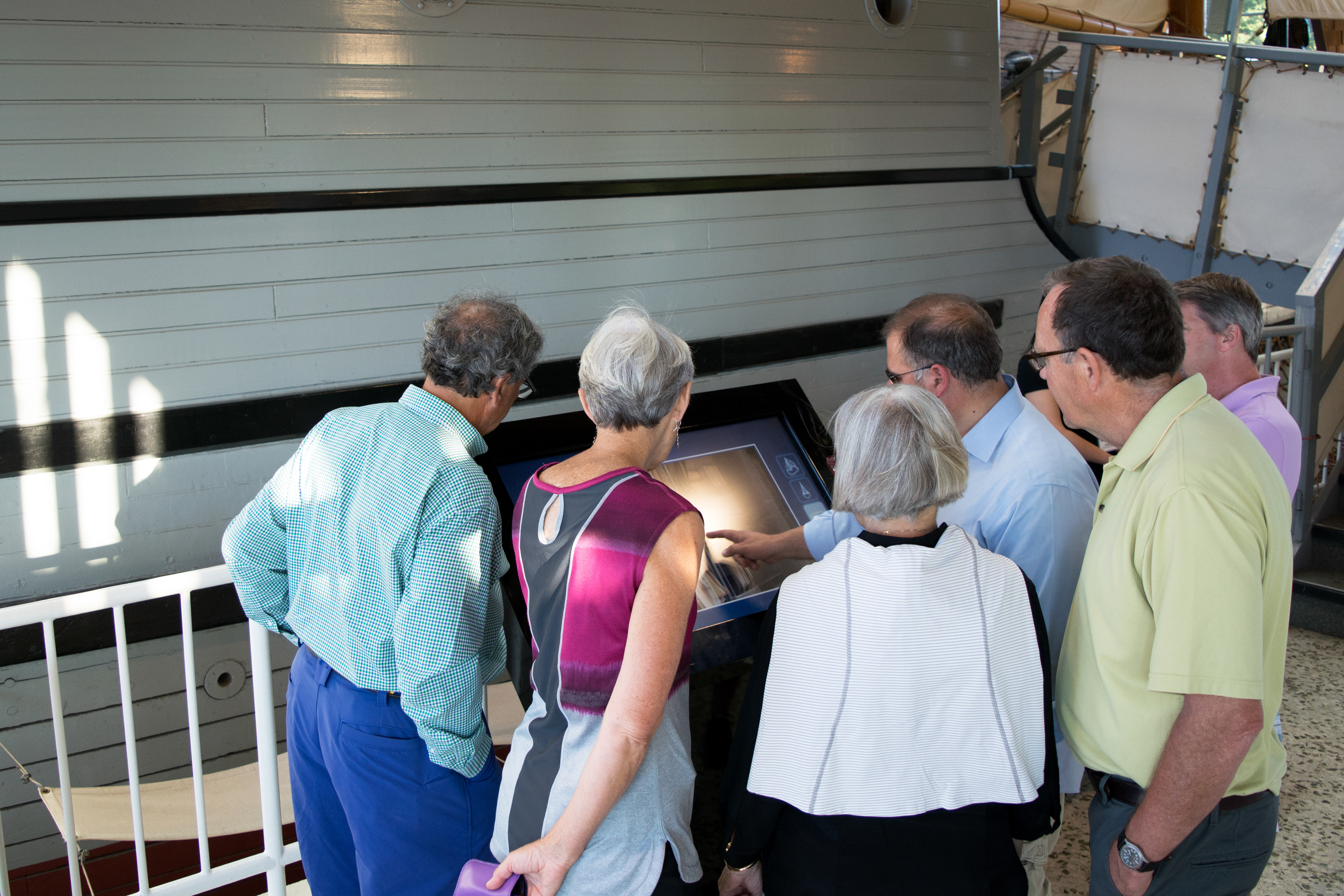 Vancouver Maritime Museum TOUCHSCREEN
The Vancouver Maritime Museum (VMM) presented the CDM team with the challenge to create two digital artifacts for their upcoming exhibition.
Our team, comprising eight individuals from different backgrounds, was presented with the challenge to scope the extent of the projects and ensure the delivery of one or both in a 13 week period.
After careful consideration, the team decided to build both projects:
The
Wheelhouse Experience
, an interactive creation of navigating through the arctic, would be the main delivery for the VMM. To ensure timely delivery, the project would be created with a mixture of CGI and live photography.
The team's 2nd delivery is a
Touchscreen Experience
, aimed at museum users who were physically unable to board the St. Roch.
TEAM MEMBERS:
Amy Lee
: Software developer
Carolyn Fung
: Account Manager
Erick Delgado
: Cinema/ Video Documentary Editor
Duong Tran
: Digital Designer (Art direction, 3D junior designer)
Hyunchul Jung
: Senior Animator, 3D designer
Juan Lara
: Software developer/ Electrical engineer
Michael Larsen
: Developer
Ryan Meech
: Physical prototype maker
HOW TO SOLVE PROBLEMS IN THIS PROJECT?
With only 2 weeks left, the team has to simplify the execution and ensure that storytelling is successfully added into the screen. After a long meeting with our client and representatives from

Haley Sharpe

, we receive crucial feedback and information on how we should present info of the ship.

As viewer can see, a 3D model ship has

many perspectives

and there are

plenty of ways (operations)

to present info with it, but

what is the best way to present the ship?



Life on the Arctic area is not all about the ship and the surrounding environment, but it is also about how people manage to survive through such harsh environment, what are their daily routines, how they use specific sections of the ship and how these sections serve functions on maintaining the lives of people on the ship.

This is an

interesting

UX-integrated-with-storytelling

problem that we need to solve. Previously, we had shown the clients of how to explore the ship with just 1 horizontal slice, but after the meeting, we knew that it's not the ultimate solutions.
The team gather together again and agree that

the ship should be shown in 4 views

which are:
-

Perspective view

(the overall view to show material and outside appearance of the ship)
-

Front view

(to show how beams undergo ice pressure)
-

Side view

(story of life on the St. Roch ship) and
-

Top view

(ship sections with specific functions).